Gymnocalycium damsii
Gymnocalycium damsii
was one of my earliest cacti acquisitions. I bought one that was bursting out of a 4 1/2" pot with babies all around, and the first thing I did was to strip the plant of all the babies and repot it. Turns out that it didn't mind the treatment, and kept growing to a grand size of about 7" or 8" diameter, which is far bigger than is typical for a
G. damsii
. Every so often I would have to strip off a whole lot of babies as well to make room for the mother plant to continue growing. As a result, I always have these to give away if anyone asks.
It also turned out to be quite a reliable bloomer, producing its white flowers each summer without any fuss - and it was probably the first cactus bloom produced in my collection that I was able to get really excited about. That was about 4 years ago, and unfortunately, the mother plant succumbed to rot after a heavy rainy period last year, but her legacy lives on.
This plant shown is one of the first batch of offsets that I stripped off in December 2002, now about the size of the one I originally got. It is recovering from a bad scale infestation, but seems to be showing me that it is now okay and ready to produce flowers and get on with its life.
The only earlier Gymnocalycium bloom this year was about two weeks ago -
Gymnocalycium damsii rotundulum
, so I'll just include it here for good measure. I guess I should note that both plants have been lumped into
Gymnocalycium anisitsii,
but I tend to keep the old names to distinguish the different plants.
I have posted this plant before, as it is one that I "rescued" from a plant store in Cambridge in early 2006, as it had fake flowers glued to it and the real blooms were deformed as a result. I paid more for it than I would normally, but I think it was worth it, as the shade of pink is marvellous and it just keeps on blooming through the summer. While it does not pup very readily, I have been able to share a few plants with others.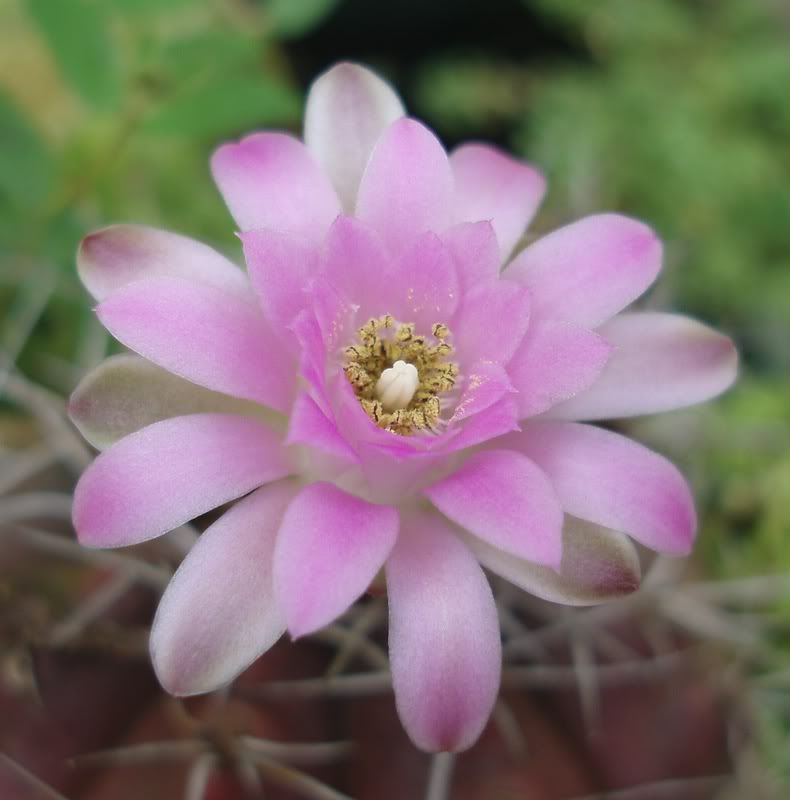 I also now have some seedlings produced from seed I got off the second plant, but I don't know if it was cross-pollinated or self-pollinated but I will see when they grow up in another five years or so.