Gymnocalycium damsii
I spent the ten days at home looking after my plants - potting up, repotting, checking seedlings, etc. The new plants have joined the collection and were quite happy up to when I left them. Only one kicked the bucket, even before it got into new soil so I have no clue why.
So what do I post? I have so many photos of different things around my garden but I can't go into it all at once.
OK, today I will talk about my
Gymnocalycium damsii
. This is one of my earlier acquisitions, when I was just starting to get into pokey plants. Before that I was in to succulent rosette-type plants and slowly transitioned into cacti.
I'm still not sure that the ID is truly correct but it's the closest I've found. The plant is now about seven inches across which is far bigger than typical for this species. When I got it in around November 2002, it was crammed into a 4 1/2" pot with pups all around screaming for more space. I potted it up and took off all 11 pups within a month.
So what did it do then? It just started producing more pups, and growing into the new space (I had put it into a 6" pot). I wanted to keep the pups on (to see how it would look), but I still took off some more near the end of 2003 - plenty were left. It bloomed for me the first time in July 2004 - just two single flowers for the season. The photo below shows the second time it bloomed.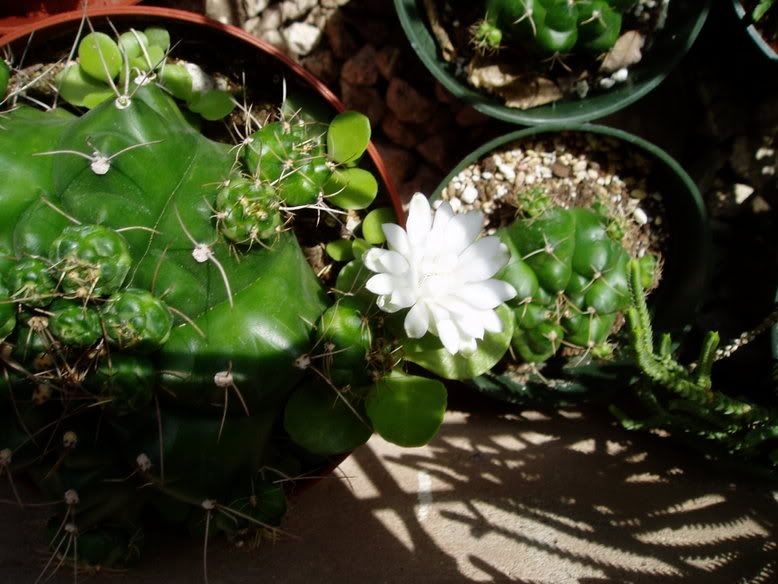 Finally, in December 2004, it made it into a 12" pot.
By April the next year, it started flowering, and not just the main plant but all the babies - tiny pups not even 1/2" across were sending out buds. Amazing! Flowering was consistent until August or September, and I think the most open at once was about 20 blooms.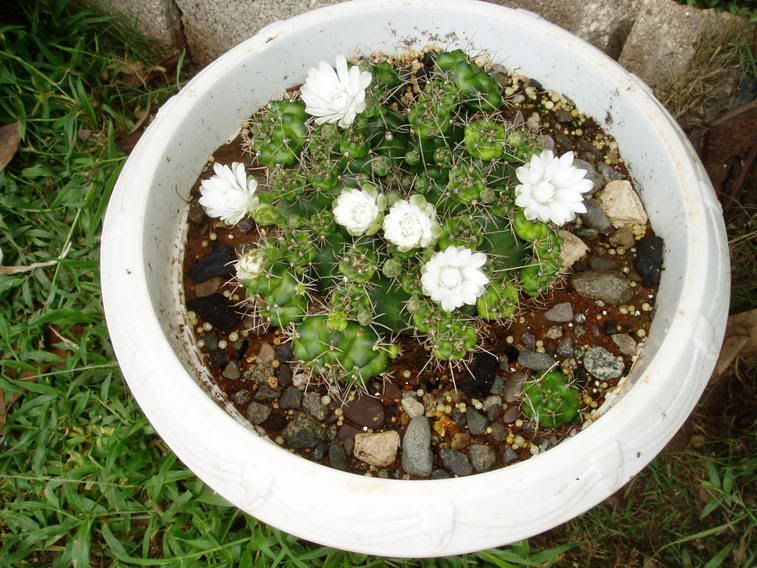 Unfortunately my photo only shows 6 flowers, because I missed the photo op when it was in full bloom (only are open like that during the day in the full sun and I was never around to see that) When I would get home from work most were closing up, but I still felt good about it. This is my first real success in flowering (I don't count the occasional bloom on the
Mammillarias
) or the ones that came to me already in bud.
While the house was being painted in November, someone got careless and daubed white paint all over my damsii. I was concerned but then it seemed to not be doing any harm, and it has peeled off over time without incident.
Last month (January 2006) I decided to strip the pups and repot. I hope that I have not doomed my chances of a successful flowering season this year, but I think there is enough time for good growth so I should at least get some blooms. I will have to wait and see. This is what it looks like now, just after repotting.