First blooms in December
I had the pleasure of seeing several plants bloom for the first time last month - most of which were ones I had grown from seed. While I don't seem to have yet figured out the conditions needed for lush and multiple blooms, I am satisfied with my progress, and the fact that I can tell people that my plants have bloomed, especially my babies.
These from seed:
Mammillaria sartorii -
sowed January 2005
Mammillaria supertexta
- sowed August 2004
Mammillaria dixanthocentron
(which I think is
var flavicentra
) - sowed August 2004
This one a gift from Manny:
Rhipsalis
species - I saw a good ID match and wrote down the name but now that I need it, I just cannot remember where I wrote it.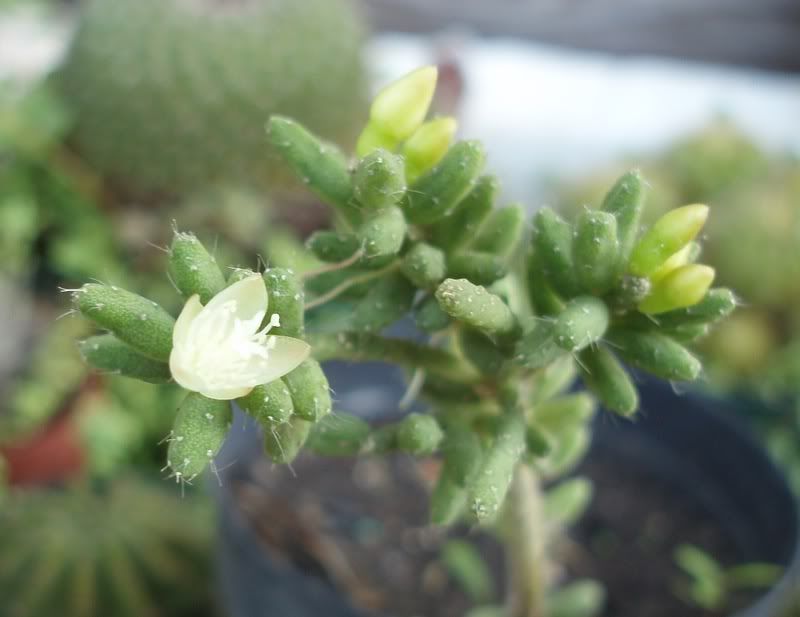 EDIT: Got the ID -
Rhipsalis mesembryanthemoides
Others that bloomed, but not for the first time include:
Mammillaria albilanata (from seed)
Mammillaria magnimamma
Mammillaria nejapensis
Mammillaria karwinskiana
Mammillaria rhodantha
Rebutia marsoneri
I will have to post those photos another day.